Like much of the Defence community, the Royal Navy is on a digital transformation journey. Initiatives like NELSON and Navy Service Standards are great examples of work underway to build digital and data capabilities from the ground up.
At the same time, the Navy is working hard to strengthen its digital leadership. This is critical to the service achieving greater coherence in how it develops and then applies innovation, and a corner stone of the Navy's plan to realise its vision of becoming a fully digital organisation by 2025.
One of the first steps the Navy has taken to enhance its digital leadership has been to establish an executive level Digital and Data Board (DDB). The Board, which met for the first time in January 2020, is a forum chaired by Second Sea Lord, Vice Admiral Nick Hine, and is attended by a collection of senior officials – both civilian and military – from across the Navy and the Defence Digital Function.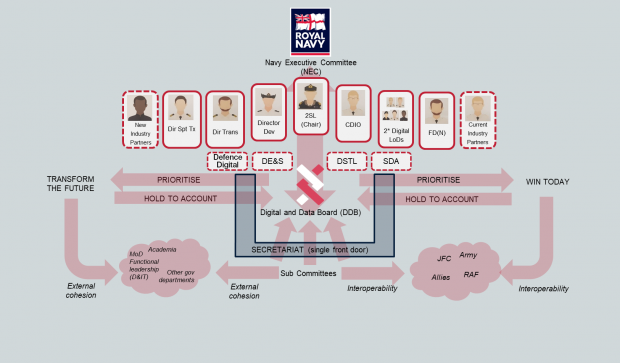 The Board, which meets quarterly, has five core objectives:
cohere digital and data functions and capabilities across the Royal Navy
educate senior leadership on the art of the possible and future capability advancements
prioritise investment to ensure we are able to adapt to new threats and opportunities
hold functions to account for pace of delivery, value for money and benefit realisation
demonstrate executive decision-making authority across the digital and data domain
Together, these objectives enable the Board to not only provide direction to the wider Navy, but also build senior leaders' understanding and engagement with the art of the possible and foster a cultural change within the Navy from the top down.
This final point is vital. Research from across the private sector has shown that any investment in digital transformation is only as effective as the education and culture you wrap around it. In this way the DDB plays a key role in shaping and promoting agility and a digital mindset, making clear that transformation is not just about what you choose to do, but how you choose to do it.
Innovation as a participation sport
Contrary to appearances, strong governance and agile delivery are not mutually exclusive. It's perfectly possible to deliver top down direction and control without sacrificing business flexibility to make and drive change. To achieve this though requires an executive body that is fully bought into agile at scale and is able to take on a cohering role; co-ordinating change at the enterprise level and committed to a dialogue with those teams building and delivering capability to users.
Through the DDB secretariat, agile teams are provided with a direct means to engage with the Board. This creates a clear communication channel between those driving innovation and senior leadership. This has dual benefits, both as motivator for agile teams who can see the commitment and backing the Board provides to them, and also for Board itself which has greater ownership of the initiatives and proposals that come to it, taking a direct responsibility in seeing them develop and succeed.
Putting the money on the table
With an emphasis on plain English and a limited number of items for discussion at each session, the DDB is geared towards visible outcomes and progress. Every agenda item the Board considers must make clear from the outset:
why it is being discussed?
what does the Board hope to achieve from the discussion?
At first, it can be surprisingly difficult to answer these questions when identifying agenda items for the Board to consider. They have served as an effective way to focus attention on the heart of the matter under consideration – both for those parties presenting to the Board and for DDB members themselves.
This focus on simplicity and clear outcomes is intentional. A defining characteristic of the DDB that sets it apart from other governance bodies is that it maintains a dedicated investment pot that the burgeoning Navy digital community can bid to access. And as with any financial allocation, it's vital to be clear at all times the rationale and value for money that an investment proposal represents.
To help it with this obligation, the DDB has created a framework for assessing the net 'public good' of innovation proposals that it expects funding submissions to the Board to align with. Using this framework as a baseline, the Board is able to make informed decisions as to how it prioritises those initiatives which should receive funding, and be taken forward as discovery, alpha and beyond.