Robin Riley recaps what happened at the first in a series of (un)conferences for digital practitioners in the Royal Navy, British Army, Royal Air Force and Ministry of Defence.
In common with many digital and technology teams all over the world, the shift to homeworking due to COVID-19 has led to a busy time for the Defence Digital Service (DDS). As well as pressing ahead with our planned work, we have been supporting the programme of work that has happened in Defence to enable more of our people to work and be productive remotely, both now and in the future.
I hope to share some more about how we've helped with enabling more collaboration and remote working in the near future, but for now I want to take the opportunity to update you on the (un)conference we held earlier in the year before the lockdown began.
On 5 March 2020, around 50 people involved in digital delivery across Defence gathered at the National Cyber Security Centre's office in Victoria to take part in the MOD's first-ever pan-Defence digital show and tell and unconference, named "DEFEnCEx0".
Hosted by DDS, representatives from teams across the Defence Digital Function came together to share their current work and challenges and find opportunities to collaborate.
The aims of the event were:
for attendees to learn about current digital delivery activity and best practice in Defence
for attendees to be exposed to common enablers and approaches available in Defence and make greater use of them
for the growing digital delivery community in Defence to be more cohesive and mutually-supporting
Setting the scene
The senior sponsor of the event, Major General Tom Copinger-Symes, Director of Military Digitisation, opened the day with a short video message, setting the context and the critical importance of digital disruption for Defence now and in the challenges to come.
Jason Caplin, former Director of Design, Digital & Technology at Barnado's, provided a colourful and engaging keynote which not only set the tone for the day but also yielded some great take-aways for anyone seeking to do digital delivery in an otherwise non-digital organisation. Such as: "No design survives first contact with the user", "Good services are verbs" and "Don't be the naughty agile monkey" – stressing the importance of using formal artefacts to document and narrate your project.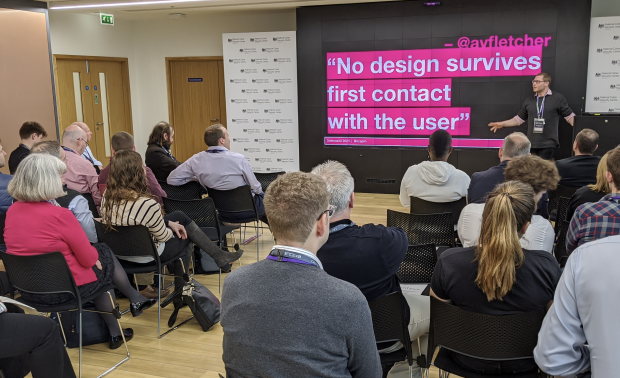 Show and Tells
The morning was filled with show and tells from different digital teams across Defence, giving a sense of the diversity of projects currently underway:
Defence Digital's Application Services DevOps Team (ASDT) shared how they are using an applications platform to respond quickly to business challenges
Royal Navy's Programme NELSON spoke of their efforts to make fuel management digital and their focus on user needs – an excellent case study of conducting user research in a uniquely Forces environment
Army DevSecOps spoke about the suite of applications developed to provide digital management of people and resources, enabling more efficient measurement of readiness
LE TacCIS (Tactical Communications Information System) talked about their efforts to adopt user-centred design and build a culture of continuous improvement into the British Army
Defence Equipment and Support (DE&S) gave a great demonstration on how they are working to improve marksmanship training with data gathered from sensors placed on a pistol
I can attest that bringing a live weapon – an air pistol in this case – into a central London government building was an… interesting administrative challenge. But it perfectly demonstrated how digital teams in Defence are getting intimate with the real problems our military users have.
The Unconference
The second half of the day was in an unconference format. For those of you unfamiliar with this format, it involves the attendees setting the agenda themselves on the day by pitching the topics that they want to discuss. Pitches were limited to thirty seconds or less. Following a vote by show of hands to get a feel for the level of interest in the topic, we allocated each session to a breakout area or room.
This approach helps participants join the conversations that are most relevant to them, rather than being directed in advance by the organisers (us!)
Pitches ranged from creating an innovative business model to improving diversity, upskilling the workforce, and the popular 'How can we take the handcuffs off Office 365?'.
One pitch which drew plenty of attention posed the thought-provoking (and oddly specific) question 'If you had a budget of £30m over the next three years to enable an enterprise application DevSecOps capability, what would you deliver first?'.
Twenty minutes per session made for some rapid talking and brainstorming, but the gatherings provided a great platform to share ideas and build connections between practitioners from different parts of Defence.
What's next?
We took away some great ideas for ways to work better together, including on common technology for digital specialists, and the use of common standards, patterns and approaches on building services.
I'd like to thank all that attended and contributed to a great day and in particular to Jason and our NCSC hosts.
The zero in the title of the event was meant to show that this was only the first in what we hope will be a series. We'll soon be canvassing colleagues in Defence on when, where and how to host DEFEnCEx1. Please get in touch via hello@digital.mod.uk if you'd like to be kept up-to-date.
Whilst you're here, DDS is currently hiring for some key roles. We're currently looking for experts in technical architecture, user research and full-stack development to join our small but growing team.