Organisations are defined by their values - here are some of ours: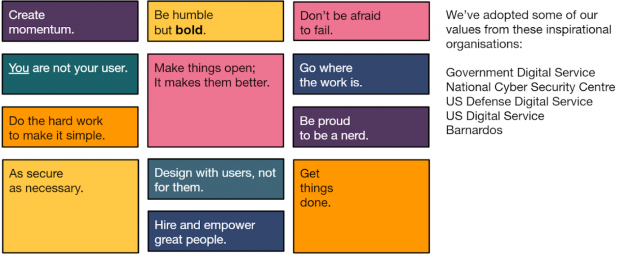 Hello, we are the Defence Digital Service (DDS) - a new group in the Ministry of Defence (MOD), here to help pave the way for the rapid delivery of user-centred products and services in Defence.
Our aims
Using modern practices and technologies, we're aiming to bring tactical and strategic advantage by responding rapidly to user needs, both in the office and in the battlespace. 
How we work
We're here to deliver! The projects chosen by our team will be pathfinders, case studies and exemplars, for broader use across the MOD.
Borrowing a little from our friends who spell defence with an 's', we'll work on things where:
we have a senior executive sponsor who can act as a senior advocate and remove challenges and roadblocks.

we have the right talent and skills on the team, so that we're uniquely positioned to assist.

our work will be of benefit across Defence.
We'll work in the open as much as possible, publishing what we're up to and how we're progressing, as we go.
Our team
Our fledgling team is currently just three strong and made up of Elliot Wilkes from the US Defense Digital Service team, here to help us set up, myself - Richard Crowther, and my colleague Iain Baars-Gordon. We're already starting to deliver value whilst we build our first product team made up of civil and crown servants together with industry experts.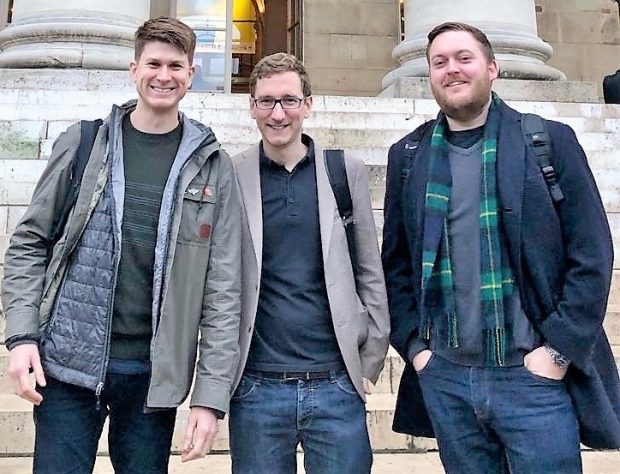 So far...
We're already working on our first Discovery exercise with support from several other teams across Defence - so watch out for our news!
Get in touch
If you're an experienced developer, user researcher, delivery manager or service designer, and you like our mission and values, please get in touch and we'll let you know when we advertise new roles. 
Elliott, Rich and Iain.