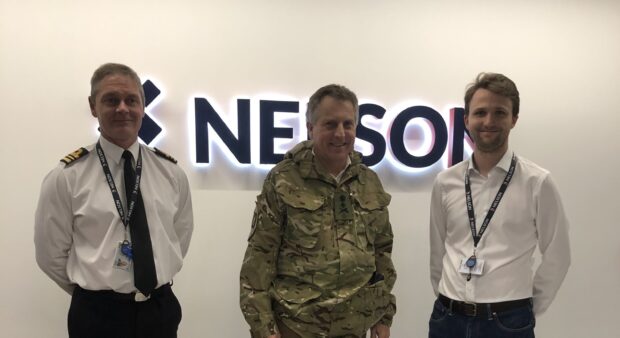 Three years ago, the Head of the Royal Navy, the First Sea Lord George Zambellas said that the Royal Navy had to think and act differently to change for the better. 
"We have to enable this change, through technology, and arm our sailors with the knowledge and the skills needed to win."
Zambellas highlighted the onset of the digital information revolution, its use in global marine warfare and how harnessing emerging commercial technologies would increase the Royal Navy's military capabilities.  
"The future performance in war will be dominated by the relentless and competitive exploitation of data: undersea, on the sea, in the air and in space. All together." 

NELSON's objectives
One year later, NELSON was born with the aim to learn through doing and to forge a brand new digital, data and artificial intelligence (AI) path across the maritime domain. 
NELSON's 3 objectives are: 
To make the Royal Navy's data coherent and accessible

To enable the rapid development and deployment of intelligent applications

To grow a culture of digital delivery 
Today, we are making great progress with all three objectives. We have grown a multidisciplinary team that works at the heart of the Royal Navy's technology ecosystem, in the state-of-the-art Digital Lab in Semaphore Tower, HMNB Portsmouth.
What does NELSON do and how?
Here are some of the things we do to help us to meet our first 2 objectives:
We provide technological support
We provide a common technology service and the tools that all digital services need, such as hosting or authoritative application programming interfaces (APIs). We have an overview across all the Royal Navy's digital services and this gives us the scale and insight to "do the hard work to make things simple" which individual projects can struggle to do.
We have created The NELSON Standards – a design system and a set of rules that save designers and developers time when creating new applications for the Royal Navy. They ensure familiarity is maintained between applications, providing Royal Navy staff with a consistent user experience through a library of styles, components and patterns, to reduce the barrier to entry when building new software.
NELSON Standards will save designers and developers time as they don't need to create many common elements from scratch and can re-use proven code. For example, the appearance and functional behaviour of a button is defined in the NELSON Standards. This technological support ultimately reduces duplication of work for Royal Navy staff and delivers better solutions for everyone who needs them.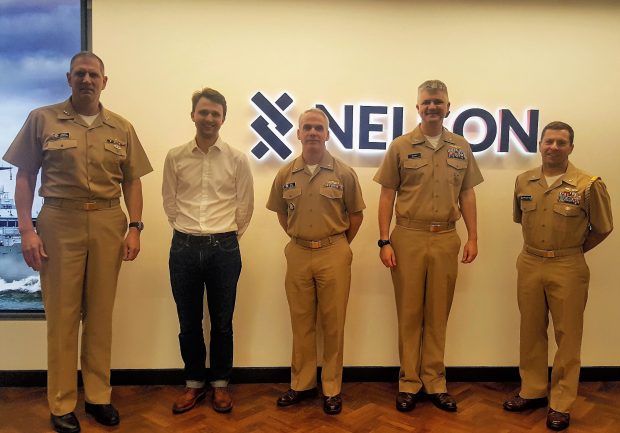 AI & Big Data are relevant to all of us who must prep for ops & warfare in the info domain. This visit highlights the partnership of the US Navy & Royal Navy, particularly in the area of Information Warfare."

VAdm Kohler, Dep Chief  Naval Ops IW/Dir of Naval Intel.
We guide digital transformation
We guide digital transformation by providing the 'NELSON First Look' and the 'NELSON Discovery Service' for our Royal Navy service users.
We know that nobody understands the processes in the Royal Navy better than those who run each service. For example: a group logistics officer on a ship knows everything about 'replenishing at sea' (refuelling), and a marine mechanical engineering officer will understand the certification requirements for pneumatic hoses, better than anyone else on the ship.
However, when any of these service users try to explore how to use their data more efficiently, or make it work better using new digital tools, NELSON's multidisciplinary team of digital, data and technology (DDaT) experts can give them the expertise and support they need.
That is what a 'NELSON First Look' and a 'Discovery Service' provides in a structured and user-centred manner. We support our users as they go out to industry "to ask for a car, not faster horses", to quote Henry Ford.
Strategy and delivery support teams
All of this transformation requires governance and support, which we provide through our Strategy and our Delivery Support Office functions. These teams ensure we are continually looking to the future, while providing expertise for delivery teams who show that Agile principles can work in defence today. We also work with the principle that no problems are too big for our teams to take on. 
NELSON so far
In 2019, we have proved our approach to building user-centred services and have exploited the best technological advancements to deliver digital services to our Royal Navy users in a faster, cheaper and better way, while consistently keeping our systems safe and secure. 
We're looking forward to 2020, as we go from proving our approach to rolling it across the fleet and our headquarters. NELSON is driving change in a way that once revolutionised the naval fleet from sails to steam.
As today's First Sea Lord Tony Radakin said as he took over the command of the Royal Navy in June 2019: "We are going to use technology and innovation in a much bigger way than we have to drive everything that we do."
NELSON is changing the way the Royal Navy uses its data.
To find out more, visit the NELSON Standards design system, contact the NELSON team by at navyiw-nelson@mod.gov.uk or visit our Twitter to see our latest news. 
Transcript and time log of the NELSON video
Time format in hour/minutes/seconds of 2.50 minutes
0:02 / 2.50
Titles: Digital and Data Transformation with NELSON.
0:05 / 2.50
In today's world, data is key. A force for incredible good – but also, in the wrong hands, a significant threat.
0:14 / 2.50
For the Royal Navy, taking advantage of the data we collect is vital.
0:18 / 2.50
Navies around the world are radically changing the way they operate, in ways not seen since sails were replaced with steam.
0:26 / 2.50
Data is at the heart of it.
0:30 / 2.50
Our friends - and potential adversaries - appreciate this, with many of them building information warfare capability in response to the rapidly changing global threat landscape. It's urgent that we are ready to respond to protect the nation's interests in an uncertain world.
0:46 / 2.50
That's why NELSON exists. We support teams across the Royal Navy to develop their data capability and deliver AI (Artificial Intelligence) applications for users.
0:56 / 2.50
We've built a common data hub which stores, processes and publishes reliable naval data in standardised formats, for all members of the navy and the wider defence community to access, wherever they are.
0.01.09 / 2.50
If someone wants to understand the movements of a particular ship – or predict the performance of a gas turbine – they now have the right data, at the right time, in the right place to get that understanding.
0.01.21 / 2.50
Our approach relies on involving a range of partners, including external companies both large and small, to solve naval problems, developing algorithms and applications that transform data into valuable insight.
0.01.31 / 2.50
We engage closely with naval personnel both at sea and ashore, involving them in the design process and making iterative improvements, to make sure we create applications that genuinely solve problems.
0.01.47 / 2.50
Our data scientists work closely with partners to ensure applications are scientifically robust and use appropriate techniques, from simple statistical analysis to sophisticated deep learning algorithms, as well as running bespoke analytics projects in-house.
0.02.03 / 2.50
As a result, NELSON plays an increasingly pivotal role in providing navy users with crucial information. Whether that's the optimal route for a survey or understanding patterns in fuel usage across the fleet. All the while, our set of standards mean applications look, feel and behave the same for everyone.
0.02.24 / 2.50
So, whether you've got data you want to understand – or a problem you think could be solved with better information – NELSON can help.
We're transforming the Royal Navy into a data-driven force – but we can only do it with your help. Get in touch at navyiw-nelson@mod.gov.uk.
0.02.46 / 2.50
End of commentary