Artificial Intelligence (AI) Fest is a conference series started by the Defence Science and Technology Laboratory (Dstl), the MOD's research arm, in 2018. Beginning as a small, largely internal, conference it has rapidly grown into the UK's largest Defence and Security AI event. AI Fest 3 ran between 14th and 16th October 2020 as a virtual conference. This blog outlines the nature of AI Fest and our experiences in developing and running our first virtual conference.
About AI Fest
AI Fest brings together military, civil servants, scientists and engineers from across UK Government, industry, academia and international partners and aims to help attendees understand how they can apply AI to their problems. Each AI Fest is themed – AI Fest 3 was entitled 'Enabling AI through Data', and explored the organisational and technological changes necessary to enact a data-centric approach and in particular, how Defence and security might go further and faster in unlocking the strategic potential of data.
Although centred on data, the conference was not exclusively so, and covered a wide range of other topics across areas of interest to government, industry and academia.
Speakers included:
Prof Dame Angela McLean, MOD Chief Scientific Adviser
Caroline Bellamy, MOD Chief Data Officer
Prof Dame Wendy Hall, co-author of the government's 2017 Artificial Intelligence Review
Dr Hannah Fry, data scientist and broadcaster
Chris Bishop head of Microsoft Research
Vint Cerf, one of the "fathers of the Internet"
Nand Mulchandani, Interim Director & CTO of the US Joint Artificial Intelligence Center (JAIC)
The event also launched Dstl's latest Biscuit Book: Building Blocks for Artificial Intelligence and Autonomy as well as promoting the original Biscuit Book: AI, Data Science and (mostly) Machine Learning.
From a Physical to a Virtual Conference
AI Fest 1 (2018) and 2 (2019) were both physical events and had roughly 200 and 600 attendees respectively. Due to COVID-19, AI Fest 3 became a virtual conference – this presented a series of challenges, and some benefits!
This was the first large virtual conference that Dstl had run and there was no one in the Laboratory with much experience that we could pull on. The first thing we needed to consider was: how much like a physical conference did we want it to be? Certain elements such as providing lunch and refreshment breaks were clearly impractical but what about reception areas and how could we mimic the random social interactions that many people go to a conference for? Did we want an exhibition area? Did we want posters? Would the speakers always present live or would pre-recorded talks be acceptable? In the end, we decided to have live speakers, an exhibition area and as much interaction as possible.
We also decided to engage with a professional digital conference provider. As it turns out, there are a lot of them out there. Capabilities vary, but all have a core common functionality. Most offer some form of conferencing auditoria enabling concurrent sessions, some form of exhibition area and some form of networking. Some mimic the look of a conference centre and others are more functional. The area that proved to be a struggle was how to enable social interactions. This is the hardest thing to replicate in the virtual world, and this is the biggest sacrifice we felt we were making in proceeding with a virtual conference.
One of the biggest constraints we dealt with was availability of supplier dates to run the conference. All the vendors are using the cloud to provide the digital service so, for most, capacity is not the limiting factor. The limiting factor is having sufficient people to choreograph the speakers, get them lined-up and ready and to troubleshoot any problems. We also had to accept other compromises such as fewer live speakers and more pre-recorded ones since pre-recorded talks required less vendor support.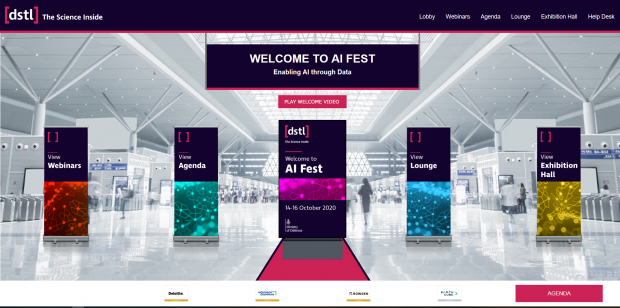 Speakers
There are a few advantages of a virtual conference when it comes to getting speakers confirmed. Firstly, speakers don't have to be around at the time of the conference if they provide pre-recorded talks. This means that a speaker that you really wanted but wasn't available at the date, or didn't want to do a talk at 3 o'clock in the morning because they live in Los Angeles, now becomes available. The down side is that it is more difficult to run question and answer (Q&A) sessions as part of the talks. The 'ideal' is to have live speakers as it creates more of a 'buzz' and means that they can run an interactive Q&A session. The second advantage is that it is easier to get live speakers confirmed as they do not have to travel to the conference and so their time is not too disrupted. It does, however, mean more preparation as speakers have to be familiar with the conference system and test their access in advance.
Pre-recorded speakers have to produce a video in advance and there are various ways they can do this – we think we probably witnessed them all! As each session contained a number of videos we also had session hosts who recorded very short introductory videos for the session as a whole and then each talk. These were then bolted together for us to make several 'one hour' pre-recorded sessions. Getting the videos in good time was quite a challenge! Even in a normal conference, actually getting the presentation is always a challenge. Typically, the speaker turns up on the day with the presentation on a memory stick. This isn't really practical for pre-recorded talks as you need them well before the conference so that the sessions can be built.
When a video arrived, we then had to check its quality; that the audio was good and that it played all the way through. Some of the more professional videos took longer to produce because they were produced by companies with similar checks and approvals that MOD has for public presenting and so extra time needed to be built in for this.
So live speakers are 'easier' from an organiser's perspective but there is the risk that comms fail on the day, whereas pre-recorded comes with a whole heap of pain but once it's done you know you have content that will work on the day. Live talks also captured a larger audience – something to think about before defaulting to pre-recorded!
Building of the conferencing platform
Building the platform can take some time – this means assembling the background look and feel and constructing the framework into which content (talks and booth content) fitted. Some vendors do a lot of the build and upload for you, others require you to complete the uploads yourself – it is worth understanding this upfront so you can be prepared (we had over 30 booths, all with varying content that we had to pull into the framework and test).
Booths
A booth imitates the stands you get in real conferences and their capabilities will vary from vendor to vendor, so we can only describe the one we used here. Our booths had a welcome video, areas where material such as documents and presentations can be viewed and downloaded, as well as links that can be followed. There is also a chat facility so attendees can speak to the booth owners. Booth owners had a lot of questions about functionality and overtime we developed a FAQ page, which helped a lot.
Again, it is important to ensure you get your hands on all of the content in good time! Booths required a lot of work, and a lot of email traffic, but they do give a presence in the conference for organisations that they wouldn't otherwise have. However, feedback from delegates implied the booths, and specifically the video content was very helpful to them.
Questions to the speakers
We opted to use Sli.do to manage the Q&A sessions, although the vendor also provided their own capability for this. For speakers that were pre-recorded, some did attend the conference and so were able to answer questions live. Where the pre-recorded speaker was not around, we took the top three questions asked and fed those back to the speaker for answering in slower time using Sli.do.
Other things
Virtual conferences happen on the web, not at a physical location. One interesting observation is the number of people that didn't understand that a virtual conference doesn't have a physical location and we were asked on a fair few occasions where it was being held.
A big plus was that, with our vendor, the conference material remains accessible to those who have registered (including recordings of the live speakers) for up to a year after the event.
Delegate behaviour is different to a normal conference with delegates more likely to drop in and out during the day to view the content that they are interested in.
Advantages
the ability to enable more people to attend and to do so in a way that enables then to drop in and out at their convenience
the fact that it's easier to get speakers as there is less commitment on their time
the number of delegates will be higher – in our case 1700 registrations compared to 600 the previous year and peak attendance of a session at over 800
the ability for them to access material and view sessions after the event
you have access to a lot of useful statistical information that would be difficult to gather from a physical conference, such as how many people accessed what, what was popular, what was not, times when people join and leave, how much and what material was downloaded from booths and so on
Disadvantages
you miss the buzz of an actual conference and the serendipitous meetings and general human contact and networking (of course, some people will see this as an advantage)
overall, the costs exceeded what we spent on AI Fest 2

running the event over three days was not the main reason for the increase although it did account for some of the increased costs due to the costs incurred from the extra sessions
although we saved by not having to pay for catering and the venue, we spent many more resource hours due to the work we had to do in the build
now that we've learnt a lot about how to construct a virtual conference, we are confident that future conferences can be done at significantly lower cost and it should be possible to put on a virtual conference for a similar cost, or lower cost, to a physical one
So which is better – Physical or Virtual?
Put simply, it's hard to say. From a delegate perspective, it will very much depend on who they are. When asked as part of the AI Fest feedback process, the preference was split almost exactly 50 -50. As an organiser, a physical one is preferred in that you get more of a buzz on the day. So perhaps the best solution is a hybrid such as a physical conference with live broadcast and material kept online after the event ends. That sounds like hard work though!