Product owners play a critical role in the Royal Navy's digital transformation. NELSON talked with Navy product owners about their experiences of digital delivery. Find out their insights and tips for success for those stepping into the role.
NELSON started off pretty small, and has grown rapidly into a team of user researchers, designers, engineers and data scientists. We try hard to work in agile and user-centred ways, and we've learned a lot in the process.
We've carefully built an environment and culture to help digital teams thrive and deliver at pace. As part of this, we're helping our partners to understand our values and embrace a 'one- team' NELSON approach, where we continue to learn, collaborate by default and are obsessive about data. Now, we're working hard to help colleagues across the Royal Navy to become digital leaders and product owners who can deliver digital at scale.
Over the last 2 years, we've built delivery teams that include many of the digital, data and technology (DDaT) roles. In that time, we've realised that the most important roles to help the Navy adopt a user-centred mindset are the product manager and service owner.
We currently blend these 2 roles into a single 'product owner', reflecting the stage that most initiatives are at. Product owners work with the delivery team to help bring the product's vision to life in the best possible way for users.
What's in a name?
Why do we use the term 'product owner' at NELSON? We could also describe this role as being a product leader, product manager or even requirements manager. We've given a lot of thought to this job title and what it means.
We believe good managers don't need to be good leaders, yet good leaders do need to be good managers. As part of that, a good product leader needs the passion and drive to guide the delivery team to help maximise business value, which is the product owner's core role. This means taking complete ownership of the product at all stages. It's about having that genuine empathy with users to want to drive delivery at pace. Product ownership is where business, technology and user experience intersect, which is what makes this role so important.
Starting the journey
Most of our product owners are learning the ropes and adapting quickly to what 'good' looks like for our digital delivery teams.
We talked with a number of Navy product owners from NELSON about their role and asked what advice they would give to new product owners starting out in digital delivery. Drawing on their experiences, we've pulled together their insights and top tips for success.
1. Take ownership
As a product owner, you're accountable for what you and the team are delivering. In some cases that might be a digital application, but it might also be changes to how things are done. You'll need to work closely with the service owner to make sure your product fits into the bigger picture of the NELSON and Navy Digital strategy. You'll need to understand that while you help drive what the team works on, how they deliver it is set by the team, enabled by the delivery manager.
You'll be responsible for creating and maintaining a roadmap for the products or services you're delivering. You will work with the service designer on this during the discovery phase, and as you learn about users, their needs and other services, you'll be able to start sketching out this roadmap. It will change as you learn though; embrace that change. Instead of attempting to plan everything upfront, focus on addressing the unanswered questions and the assumptions you have.
2. Know your team
Understanding your team is one of the most important parts to this role. The delivery manager will be responsible for the day to day running of the teams, but the product owner has ultimate responsibility in refining and prioritising the work and setting the vision to where the service is going. Being available for agile ceremonies and meetings is just as important to build that team cohesion.
3. Know your users and stakeholders
You'll need to understand who the users might be and help the team focus on understanding and meeting their needs. As a product owner, you're the voice and champion of the user, so make sure you plan in time to research and test your product with users. You'll also need to understand who your stakeholders are, why they're different from users and why relationships with them need to be different. Building your stakeholders' trust is a critical skill, so learn about their workplace culture and what drives them, and get to know the nuances.
"You need to 'be the ambassador', advocating NELSON's approach to stakeholders and persuading the stakeholder to become engaged. Starting the process is easy, but keeping the stakeholders engaged throughout Alpha and Beta can be slightly harder." - Navy product owner
4. Iterate, then iterate again
You'll need to embrace the idea of iterative design and delivery. For example, there were over 30 iterations of the designs for the fuel sustainment application, which is the first stage of the maritime sustainment application.
Being the product owner means having an opinion, having evidence, and bringing others on the journey with you, so engagement naturally happens. This level of design iteration can be unchartered territory for some parts of Defence and it can also be frustrating for new product owners. It may feel like digital delivery teams spend ages researching and designing something, rather than just 'getting on' and building it. Your team will remind you of this, but the goal here is to build the right thing, rather than the wrong thing, quickly.
5. Understand technical aspects
Agile delivery puts Navy staff in direct contact with designers and engineers. As you work with them, you'll get exposed to detail about how teams design and develop software. Some product owners will find this interesting; others won't. You're not expected to be deeply technical, but you will need to consider how technical aspects affect prioritisation and what the team works on. You'll be able to do that by asking your team to explain things clearly, such as through drawings, sharing links and one-to-ones.
Understanding the technology stack, and most importantly the level of effort involved, is critical to making the right decisions. At NELSON, we support product owners by partnering product owners with delivery managers who are experienced in the technical aspects.
6. Be the expert 'go-to' person
Some or all of your team may not know much about the Navy yet. They'll need you to help them understand what's important to the Navy. They'll also need help understanding acronyms, how the organisation works, the key challenges to address and the outcomes Navy teams want to deliver.
7. Secure funding
You may have a good idea for your product, but before you can bring it to life, you'll need funding to resource your requirements. As a product owner, you'll need to understand the correct funding route for you and how the phases of delivery align with annual budget cycles. Make sure you get upfront agreement on funding and a rough order of costs early on. There's many funding options available, including the Navy Digital & Data Board, MarCap (Maritime Capability), OCTO (Office of the Chief Technology Officer) and DASA (Defence and Security Accelerator). You'll also need to make sure your product delivers value for money.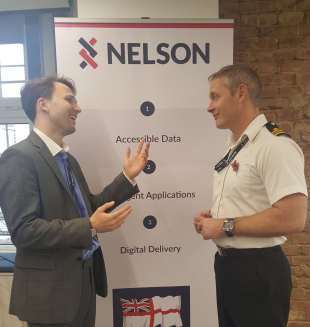 Next steps
We know this doesn't cover everything – it's not an exhaustive list. There may be lots of questions you need the answers to, such as:
how do I manage this role alongside my day job?
how do user-centred design and agile work together?
how does product ownership change through the delivery phases?
We're exploring ways that NELSON can help support product owners - and others working in the digital space - to gain the skills and support they need to excel at their roles. These include our new product owner community and the NELSON Academy, which will help build the digital, data and technology skills that will drive the Navy's digital transformation.
Obviously, we can't do this alone, so we need your feedback and observations of what we can help improve. What's worked well for you? What practices have prompted that 'Aha!' moment? Leave a comment below or get in touch with us. We're really keen to hear from you.
To find out more about NELSON, read this blog post about our work, visit the NELSON Design Standards or get in touch with us at navyiw-nelson@mod.gov.uk.