Listening to our growing pains
Over the last year or so, we've increased the number of Navy digital services we're helping to deliver. As we've done that, we've noticed a few things:
we need to get better at coordinating what teams deliver and how and why they research, design, build and buy digital services
we need to coordinate how those services place requirements on the NELSON data platform and other products and services
clear, accessible guidance and standards are essential – while the UK Service Manual has been a constant source of reference for us, it doesn't have everything we need as Defence users have different needs to those using GOV.UK services
growing digital delivery in the Navy is a fantastic opportunity to capture what works and what doesn't, as Government Digital Service have done in central government
Coordinating
Across the Navy organisations we work with, we'll analyse user needs and find, and help solve, technical and policy constraints. We'll also identify and design potentially useful common digital services - think government as a platform (or watch this excellent video). We'll also develop requirements for the NELSON data platform based on the needs and designs of those services.
To start with, we'll have a technical architect, a user researcher, a service designer, a business analyst, a delivery manager and Royal Navy personnel. Together, they will grapple with these issues, but, a much wider group of people will need to contribute as it develops. We'll be multi-disciplinary, flat in structure and flat in our relationship with delivery teams.
We'll participate in first look workshops and dip into delivery teams to stay current and to understand what services we might need to support in the future. As a part of Navy Digital, we'll also help the Navy Digital & Data Board understand how services relate to each other and the risks associated with their delivery.
We plan to establish communities of practice that align with the Digital, Data and Technology (DDaT) framework. We're in the process of defining Communities of Practice and there's already a long list of issues to work through. In facilitating these networks, we hope to:
informally drive good practices, reinforce standards and have well-coordinated delivery teams
support military, civil servant and supplier learning and development through on-the-job observation and hands-on experience
Guidance and Standards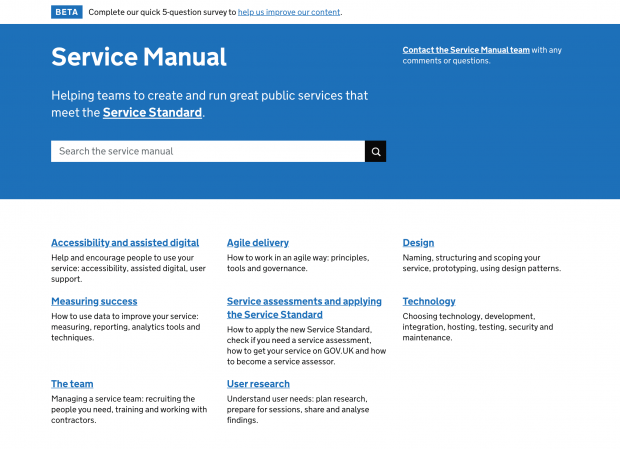 We're developing guidance to help support the design and delivery of digital services. It will be called the Navy Digital Standards. For most of the guidance, we'll refer readers to the GOV.UK Service Manual and Technology Code of Practice, only extending it where necessary to meet Navy needs and the Defence context. As momentum builds, the Navy Digital Standards will also help us ensure the right checks are in place to govern, as well as guide, the delivery of our digital services.
The Navy Digital Standards will be a set of guidelines, patterns and tools, designed to help the Navy and its partners achieve consistently performant digital applications, both ashore and afloat. This is critical in areas of the Navy which need a high degree of confidence that the service will work as designed, including those which use complex analytical techniques such as machine learning. We expect the Standard to comprise at least these 3 types of information:
technology and digital standards: standards for research, design, development and support of Navy Digital services
specific digital, data and technology topics, such as agile delivery, working in the open, security considerations in Defence and spend controls
design and style principles and guidance; interaction and content design resources
Achieving consistency will reduce training time for our users, lower the cost of development, increase the speed of delivery, and most importantly, reduce the burden placed on the users of these digital applications.
Sharing what we learn
In the next 2 months, we'll be producing light-weight service and product definitions for the things we are responsible for in Navy Digital, including services like pre-discovery, data science investigation, delivery coordination and the Standards. These definitions will help us understand how our products and services need to work and interact. We'll  blog our progress on the Standards to ensure our work compliments other digital single-service and integrated initiatives.