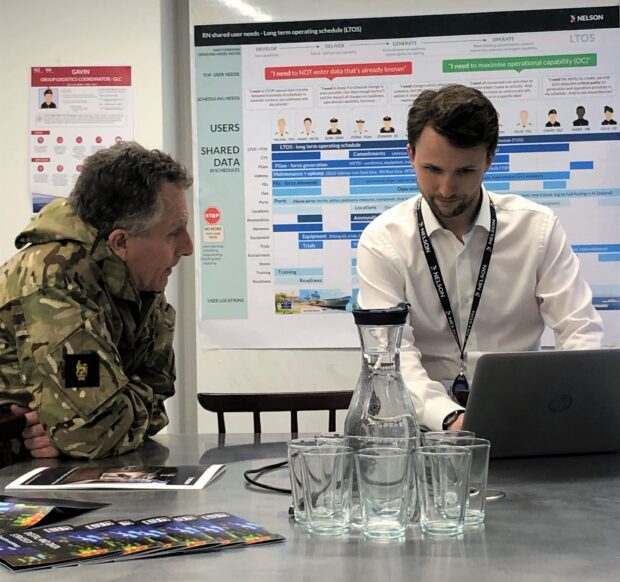 Royal Navy's NELSON recently completed a discovery into the Royal Navy's Trials, Training, Tactics and Evaluation (T3E) community. 
T3E, as it's commonly known, refers to the disciplines which combine to assess whether the Royal Navy's equipment, people and processes, are ready to deploy and fight. 
The community's work includes technical trials to assess the performance of platform equipment, training serials to assess human performance, and tactical evaluation to assess the mental capacity and application of tactics to a range of scenarios.
The purpose of our discovery was to completely understand the challenges and opportunities that the T3E service users were having in their digital environment.
One-day workshops
We set up our team and kicked off with a 1-day workshop to meet our users and get a sense of the project. We soon found out that this discovery would involve multiple complex organisations, so it was important to understand and map the user journeys from every perspective. To do this, we organised a series of user-led sessions. 
How we organised our user-led sessions
We had regular focus groups and 1-1 discussions with service users and stakeholders to understand which parts of their journeys they found most problematic. 
We wanted to understand how the service users are affected by how the Royal Navy assures its equipment, people and processes. An example of a typical question was: 'Are there any areas that, if improved, would make the biggest difference to your service?'
Digging out the problem
A single theme emerged from these discussions: data was largely inaccessible and therefore difficult to make the most of . Uncovering this problem helped us to focus our questions, and we asked: 'What data existed? Where was it stored? How was it currently used?' And from there, the questions and answers flowed until we had a greater understanding of the T3E community's most important service needs and priorities. At last, we could identify and plan actions to make better use of T3E's data and we felt we were getting somewhere.
The Royal Navy has a strategic imperative to make better use of data to inform capability assurance and enable the improvement of warfighting ability for Carrier Strike Group 21 (CSG21) deployment and NELSON is helping.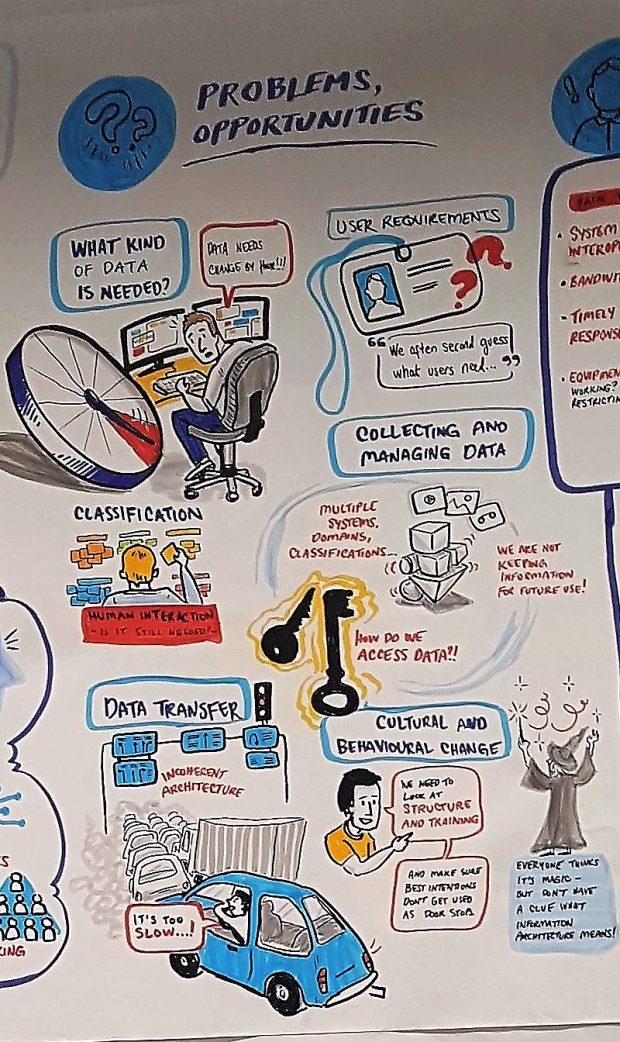 What lessons did we learn from this discovery?
Starting from scratch can sometimes be daunting for teams as they need to grasp the sheer scale of a project and know where to start.
A discovery creates fantastic opportunities to build a brand new team with the skills and expertise to ensure that the project is focused on the right things. However, having a common understanding of what the problem is and working collaboratively is key to providing solutions.
Here are some important things we learned from this discovery:
Get the right help – get a service user sponsor
Senior sponsorship is absolutely critical for a discovery. Having someone from the service user community to champion a project will help you to get access to the people who make decisions and enable delivery.
We were lucky, our product owner kept this discovery on track and exerted pressure within the Royal Navy to overcome resistance when it cropped up. 
A good sponsor is key
Getting the right person as your sponsor is critical. We found it helpful to put together a short list of criteria we wanted our sponsor to meet:
Do they have a good understanding of the problem?

Do they have credibility within the organisation?

Do they have the time to commit to the project?

Are they able to influence and engage others?
Organising good kick-off sessions
As long as you have the key stakeholders engaged, a well-delivered kick-off session can set the discovery up for success. Enabling the agreement of the scope, the vision of the digital service or product, and directing your team on where to focus initially, is absolutely crucial. 
What could we do better?
We learned a lot from this discovery but here are a few things we think we could do better:
Early scheduling is key
The range of service users involved in this project was huge, so we tried to get regular feedback through our show and tells. These sessions were a good start until inconsistent attendance meant we had to organise further updates and this took up more of our time.  
Earlier scheduling and better briefing at the kick-off session can help to highlight why show and tells are an important governance activity.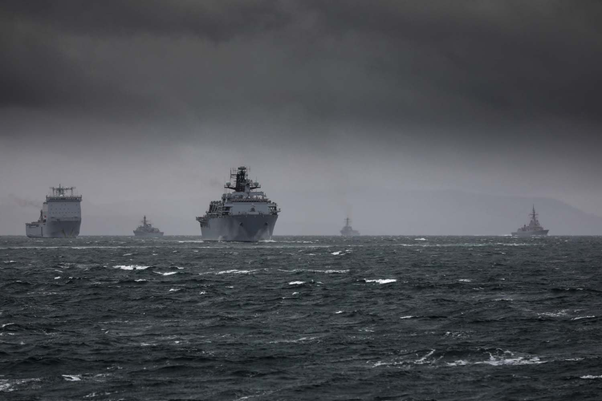 Attending key events to get real insights
We sent one of our team members to Joint Warrior, a major semi-annual multi-national military exercise which takes place in the United Kingdom. He saw first-hand the pressure instructors and trainees are under in developing operational capability. If you have the chance to attend key events like this exercise for your discovery – do it! The value you get from it is awesome because it really brings the problems to light! 
Finally, we successfully produced a number of artefacts that helped us to understand the service users' pains, and potential solutions, including blueprints, process flows, data and infrastructure graphs. 
Showing the benefits more clearly
The outputs of a discovery could be further improved to include a benefits map – this would help the product owner to communicate the benefits and support the business case development.
What's next?
We've now come to the end of this NELSON Discovery but of course, we will continue to learn throughout the delivery of the project. We plan to write a series of blog posts about each stage of our journey to share real insights about what it's like to take a digital service from discovery to live.
NELSON is changing the way the Royal Navy uses its data.
To find out more, visit the About NELSON page, the NELSON Standards design system, contact the NELSON team at navyiw-nelson@mod.gov.uk or visit our Twitter for our latest news.